SEAMLESS SYNCHRONIZATION
The integration with
Watch
NET
Access Control Software enables automatic synchronization of personnel information data. This integration streamlines the enrollment process by requiring only biometric data to be entered using TBS software, while all other user data is automatically synchronized from TBS to
Watch
NET
Access database.
For instructions on how to integrate TBS WebEdition with WatchNet, please refer to this comprehensive documentation:
Users and operators benefit from the highest level of security, flexibility, and convenience thanks to the flawless synchronization of TBS biometric solutions.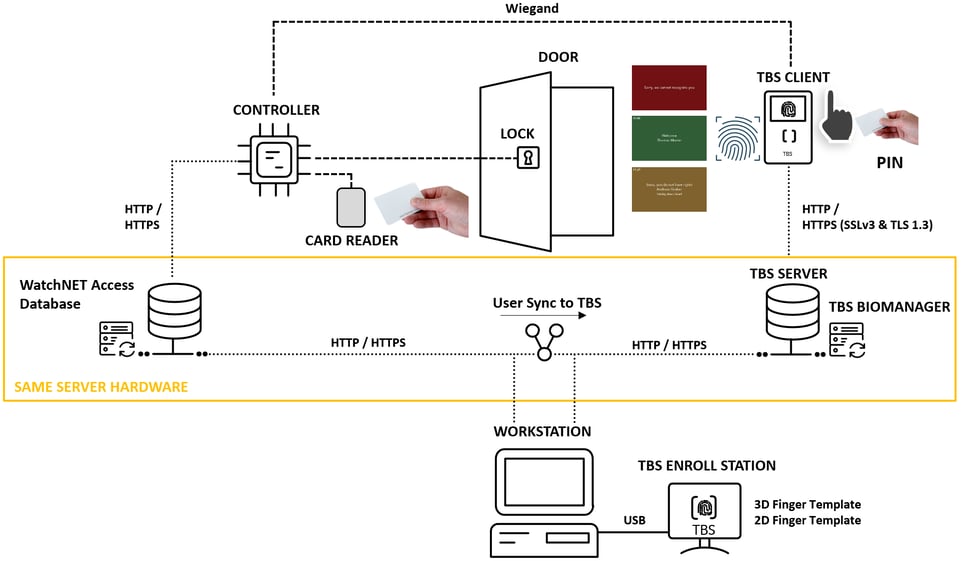 Automated data synchronization
The TBS server synchronizes user data to the connected terminals and in return collects all access events. Once enrolled, new biometric templates are automatically distributed to all readers on the network. If a user is deleted, the user's access rights are instantly removed and all biometric data deleted.
Operation Modes: Identification & Verification
Identification requires one biometric trait (fingerprint, hand or iris) to be provided by the user (1:N). Verification means the user has to present several identification factors, such as a card or enter his PIN first and then confirm his identity by presenting his biometrics (1:1). Verification mode is used for higher security areas or in installations with a very large user database. You can set the mode for each reader (and thus door) independently.
HELPFUL LINKS
WHY TBS
TBS was the first biometrics manufacturer to combine security, accuracy and convenience.
EXPLORE
TBS SOLUTIONS
TBS delivers the perfect solutions with a commitment to security, accuracy, and integrity.
EXPLORE
CASE STUDIES
TBS equips hundreds of installations around the globe with success stories tailored for you.
EXPLORE