Die Integration mit der WatchNET Access Control-Software ermöglicht die automatische Synchronisierung von Mitarbeiterinformationsdaten. Diese Integration vereinfacht den Anmeldeprozess, indem nur biometrische Daten über die TBS-Software eingegeben werden müssen, während alle anderen Benutzerdaten automatisch von TBS zur WatchNET Access-Datenbank synchronisiert werden.
Für detaillierte Informationen zur Integration von TBS WebEdition mit WatchNet, lesen Sie bitte diese umfassende Dokumentation:
Benutzer und Betreiber profitieren von höchster Sicherheit, Flexibilität und Bequemlichkeit dank der einwandfreien Synchronisierung der TBS biometrischen Lösungen.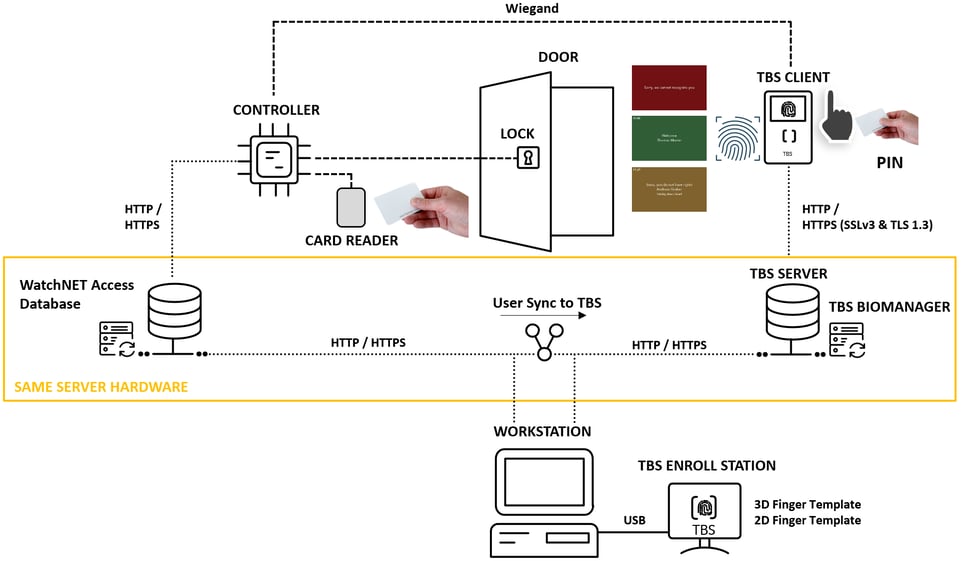 Automated data synchronization
The TBS server synchronizes user data to the connected terminals and in return collects all access events. Once enrolled, new biometric templates are automatically distributed to all readers on the network. If a user is deleted, the user's access rights are instantly removed and all biometric data deleted.
Operation Modes: Identification & Verification
Identification requires one biometric trait (fingerprint, hand or iris) to be provided by the user (1:N). Verification means the user has to present several identification factors, such as a card or enter his PIN first and then confirm his identity by presenting his biometrics (1:1). Verification mode is used for higher security areas or in installations with a very large user database. You can set the mode for each reader (and thus door) independently.
HELPFUL LINKS
WHY TBS
TBS was the first biometrics manufacturer to combine security, accuracy and convenience.
EXPLORE
TBS SOLUTIONS
TBS delivers the perfect solutions with a commitment to security, accuracy, and integrity.
EXPLORE
CASE STUDIES
TBS equips hundreds of installations around the globe with success stories tailored for you.
EXPLORE