How Can Biometrics Help Reduce Costs, Mitigate Risk and Increase Efficiency in Airports?
In 2018, over 4.3 billion people flew on commercial flights globally, there are around 100,000 scheduled flights every day. Hartsfield-Jackson Atlanta International Airport employs over 63,000 people. The sheer size and scale of large airports make security a big challenge, and in particular, simply being able to reliably identify staff, contractors, and passengers requires robust systems and processes.
The biggest risk of mistakes being made regarding the identification of individuals will always be when there is a human element to the decision. There are many biometric solutions on the market that provide reliable identification of people without the need for human validation. In this article, we will look at some of the ways biometric systems can be installed to reduce costs, mitigate risk and increase efficiency in airports.

Airside Access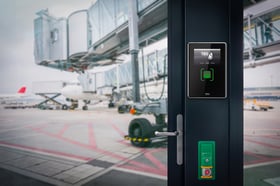 The most critical point of access between public areas and airside (beyond passport and customs control). This boundary needs to be strictly controlled and only authorized personnel should be able to move airside. Traditional access control systems rely heavily on RFID readers and PINs. These methods of identification have associated risks. Cards/fobs can be lost or stolen; PINs can be compromised or shared between individuals. A biometric access control system eliminates this risk. When authorization is based on a reliable biometric identification, there is no need for cards or PINs, the person seeking authorization must be physically present because the decision to grant access is based on their physical characteristics, such as their fingerprint, iris, or face.
Access to Sensitive Areas
Access control is often compared to the layers of an onion. When you move from one area to another, another layer is relieved. Usually, the closer to the center you get, the higher the security requirements and the fewer the number of people will be allowed access. The TBS infrastructure allows for different types of devices to be installed and managed under one platform. Although the 'outer layers' of a site are usually less sensitive, they are usually accessed by the highest number of people. Conversely, when you get closer to the center of operations, the number of people with access rights will reduce but the risk of granting the wrong person access significantly increases. Therefore, the priority should be installing a device capable of liveness detection and the most robust form of biometric identification.
The TBS 3D AIR and 3D LIGHT provide extremely accurate and consistent biometric identification. They are contactless and very simple to use. When there is no compromise on security, think TBS!
Staff Time and Attendance
With so many people working in airports, it is important to keep staff costs within budget. It is widely recognized by the industry that introducing a time and attendance system can reduce payroll costs by as much as 3-5%. As with access control readers, traditional time and attendance solutions rely on card/fob-based RFID readers. This type of identification assumes that the card/fob is being presented to the reader by the 'owner', which means that buddy punching is easy to achieve by simply asking a co-worker to use your card. A biometric solution from TBS completely eliminates this possibility.
Emergency Evacuation
Know the whereabouts of your personnel and contractors. Large airports contain miles upon miles of corridors and walkways leading to thousands of restricted areas. In the event of an emergency, it is critical to have real-time access to data regarding the whereabouts of people. As a person is identified and processed from one area to another, their location and direction of travel (in or out) is recorded. This information can be used to generate reports of the last known location of individuals in the event of an emergency.
Anti-Tailgating
For high-security areas, access control readers alone cannot stop people from tailgating, the process of following an authorized person through a restricted access door. TBS readers can be installed in turnstiles and airlocks which physically restrict the flow of individuals. As an alternative to this method, TBS is integrated with one of the most reliable anti-tailgate solutions available (TBS 3D Tailgate). This sensor is mounted in close proximity to the biometric reader and will ensure that only the person who was identified goes through the access point. If the sensor detects that more than one person, or that a different person, attempts to pass through the door, the sensor can send an alarm signal or a signal to prevent a door from being open.
TBS Solutions
Here are some examples of our solutions:
| | |
| --- | --- |
| Recommended Solution | Key Benefits |
| | The most reliable, contactless fingerprint reader available capable of managing large databases |
| | A multi-spectral fingerprint reader capable of reliable identification in the most extreme environments |
| | Our cost-effective, optical fingerprint reader with an intuitive touchscreen user interface |
| | Mobile identification and enrolment enabling identification at any location without the need for infrastructure |
| | Iris recognition is contactless, hygienic and extremely reliable for use in indoor environments |