3D FLY
A true on-the-fly experience. 3D FLY delivers high-speed identification for fast-throughput environments. A smooth and seamless user experience makes its 3D+ trailblazing technology ideal for speed-lanes where pace and security are paramount.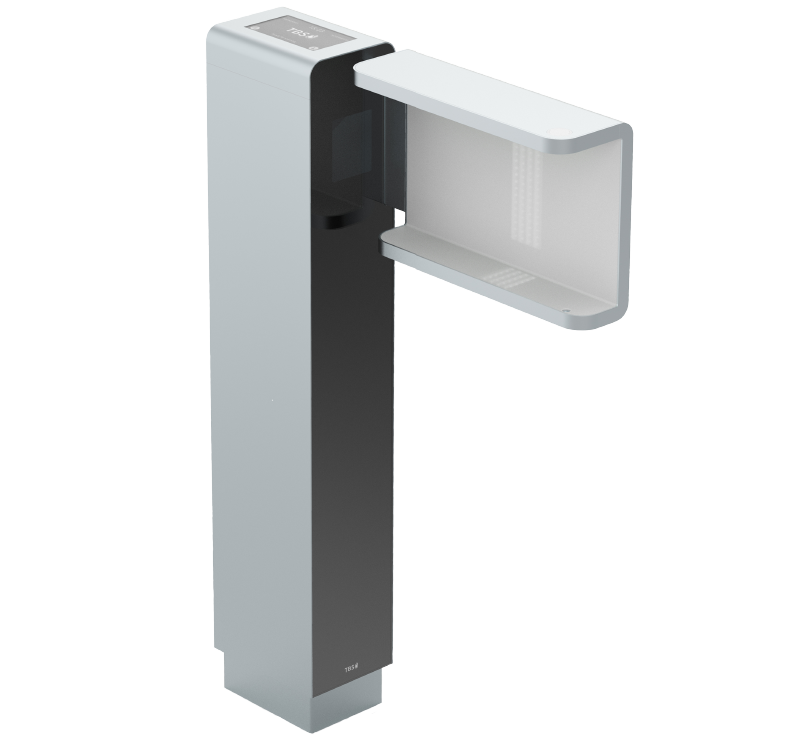 WHAT IS 3D FLY?
This touchless hand scanner captures fingerprints quickly and effectively, delivering unparalleled speed and identification accuracy. Offering a contactless user experience, 3D FLY eliminates bottlenecks in high-throughput zones.
SMART IDENTIFICATION
The high-speed camera feeds your hand picture to a lightning-fast internal processor, using our AI-aided algorithms to optimize the match-making time. TBS makes no compromise between speed and security: 3D FLY offers the best of both worlds.
TOUCHLESS HYGIENE
Touchless technology not only delivers higher identification accuracy but also offers a hygienic solution to today's user demands. The ideal device for sensitive applications in healthcare, business towers or event venues.
FOUR-FINGERS-PRINCIPLE
One biometric 'hand' template accommodates up to four finger templates. This means the weight of identification is not placed on a single finger but shared amongst four of them, delivering unparalleled accuracy on-the-fly.
HIGH SPEED
Designed specifically for speed-lanes and high-throughput environments, 3D FLY captures your hand biometrics and opens doors within a single second. It delivers outstanding processing rates for busy environments, whilst ensuring maximum security standards.
HIGH ACCURACY
When speed is of the essence, accuracy is essential. The 3D FLY sensor provides outstanding accuracy by recognizing up to four biometric samples simultaneously, resulting in an extremely low false rejection rate.
USER-FOCUSED
Not only does 3D FLY deliver high-velocity scanning, but it also offers a smooth and pleasurable user experience. Typically placed at main entrances, 3D FLY is just the first biometrics experience in a network-like holistic access control concept.
Transport yourself to the year 2120, where a top-secret government facility is about to launch an important space mission. But before anyone can board the spaceship, they must undergo a rigorous security check by TBS, the leading provider of touchless biometric solutions!

Curious about how this revolutionary biometric technology works? Don't miss the video where you can see it in action. Get ready for a thrilling glimpse into the future and have fun exploring what's to come! Don't miss the video that will show you firsthand how TBS's touchless biometric solutions are shaping the future of security. Get ready to be amazed!
FEATURED CASE STUDY
TBS CONTACTLESS FINGERPRINT SCANNERS EQUIP CELGENE DATA CENTERS AND RESEARCH
Celegne's business field is very sensitive. Researching, developing and marketing new therapies for treating hitherto incurable diseases requires security and know-how protection. Additionally to the American headquarters in New Jersey, protection was also needed for the company's European headquarters in Boudry, Switzerland.
INTEGRATIONS
TBS devices have been developed to slot smoothly into your operations and easily integrate with all the leading access control solutions. We pride ourselves on our collaborations with global technology partners to deliver seamless integration outcomes.