UNLOCK THE POTENTIAL OF A WEB-DRIVEN SOFTWARE SYSTEM
TBS BIOMANAGER ENTERPRISE is a powerful, secure and feature-rich web-based software platform that provides comprehensive functionality to manage biometric user data and devices.
With its advanced encryption technology, all biometric data is securely stored and protected. The scalability of the platform allows for large multi-site deployments and the available web APIs greatly simplify integration with other systems.
BIOMANAGER ENTERPRISE assures that your biometric user data and biometric devices are managed with the highest level of security, reliability and efficiency.
With our proactive development approach, we stay on top of the latest security requirements to give you confidence your data is always in safe hands.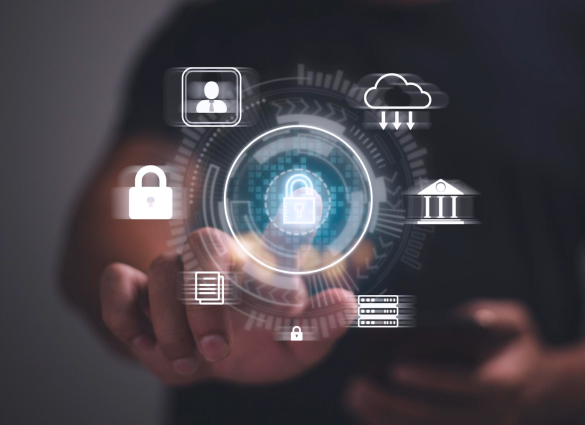 Biomanager Enterprise – software platform
The graphic provides a comprehensive summary of the software platform. The BASE PACKAGE alone provides top-notch security, optimal efficiency and complete functionality to meet your needs. For additional features, there are various POWER PACKAGES that can be added on to take its capabilities even further.
The platform is highly scalable which makes it perfect for large multi-site deployments while the web APIs make integration with other systems effortless.
Whether you prefer a stand-alone or integrated solution, or opt for either cloud-based deployment or on-premise hosting - our proactive development strategy guarantees freedom of choice and personalized customization options tailored just for you!
BIOMANAGER ENTERPRISE
User Management
Device/Client Management
Biometric Management
System Settings
Live Transactions
REST API
Enrollment

Multi-Factor

High-Security

Integration

Access Control

Access Control Profiles

Access Point Management
TBS BIOMANAGER ENTERPRISE offers the highest level of security for all data in rest and transit. Using the latest available encryption methods even qualifies the platform for FIPS 140 compliance. Account and role based operation in combination with sophisticated security mechanisms ensures no data can be accessed by unauthorized persons. Regular updates safeguard the system against possible upcoming vulnerabilities.
TBS BIOMANAGER ENTERPRISE is designed to simplify integration with third-party software through REST based web services. Moreover, the available seamless enrollment integration supports a simplified and unified user interface and user experience, while our 3rd party API adapters ensure compatibility to many of the world's leading PACS.
TBS BIOMANAGER ENTERPRISE gives you the flexibility to select only the functionality you need, on server and device side. Use the base package right away or empower your installation by adding extension packages, you decide what version of BIOMANAGER ENTERPRISE fits you and your installation best. Moreover, feel free to deploy your TBS solution on-premise or in the cloud, based on the powerful and scalable Microsoft Azure™ platform.
TBS BIOMANAGER ENTERPRISE is your powerful tool to manage all biometric devices from TBS. You are free to combine various biometric modalities, like fingerprint, iris, or face recognition, with non-biometric authentication factors like card, PIN code or mobile access. Be also invited to describe your special needs, we understand there is no one-fit-for-all solution and we are always willing to go the extra mile to realize your project needs. TBS is your biometric solution provider.
TBS BIOMANAGER ENTERPRISE provides a comprehensive level of accountability, with real-time and offline monitoring of transactions and system events. With these advanced auditing capabilities your business is always secure and protected. Further enhancements will be provided with the upcoming new feature "Active Device Monitoring", giving operators real-time and historical information about various device parameters at hand.
TBS BIOMANAGER ENTERPRISE is prepared for scalability, to keep pace with your growing business needs. Extend the list of users and operators at any time, or add devices to your installation. The TBS software infrastructure always ensures that all devices are in perfect sync with the user data on the TBS server. Advanced features like tenants, zone and schedule management are also available, to optimally partition larger installations or reflect special access rights.
TBS BIOMANAGER ENTERPRISE greatly simplifies your work with the biometric solution, from initial setup to daily operation. From the simple but powerful installation wizard up to the intuitive user interface: we strive to save your valuable time and resources while ensuring your business is running smoothly.
BASE PACKAGE
The BIOMANAGER ENTERPRISE base package provides all the key functionality to manage your user data and biometric devices intuitively. The base package includes these modules:
Manage users with their biometric data efficiently. Create, delete and modify user data, assign ID values and set the person's role on TBS devices.
Manage your biometric devices and enrollment clients with ease. Activate them with a single click, configure advanced features remotely and verify the status at any time.
Easily access (review or delete) all biometric templates (records) of a user to maintain an up-to-date database.
See live the incoming bookings from all connected devices devices (for the last 24 hours), with complete context information.
Manage operators, control basic maintenance options and modify system settings easily.
Connect other systems easily by using our server side REST APIs. Control content remotely or retrieve bookings to be processed in your software.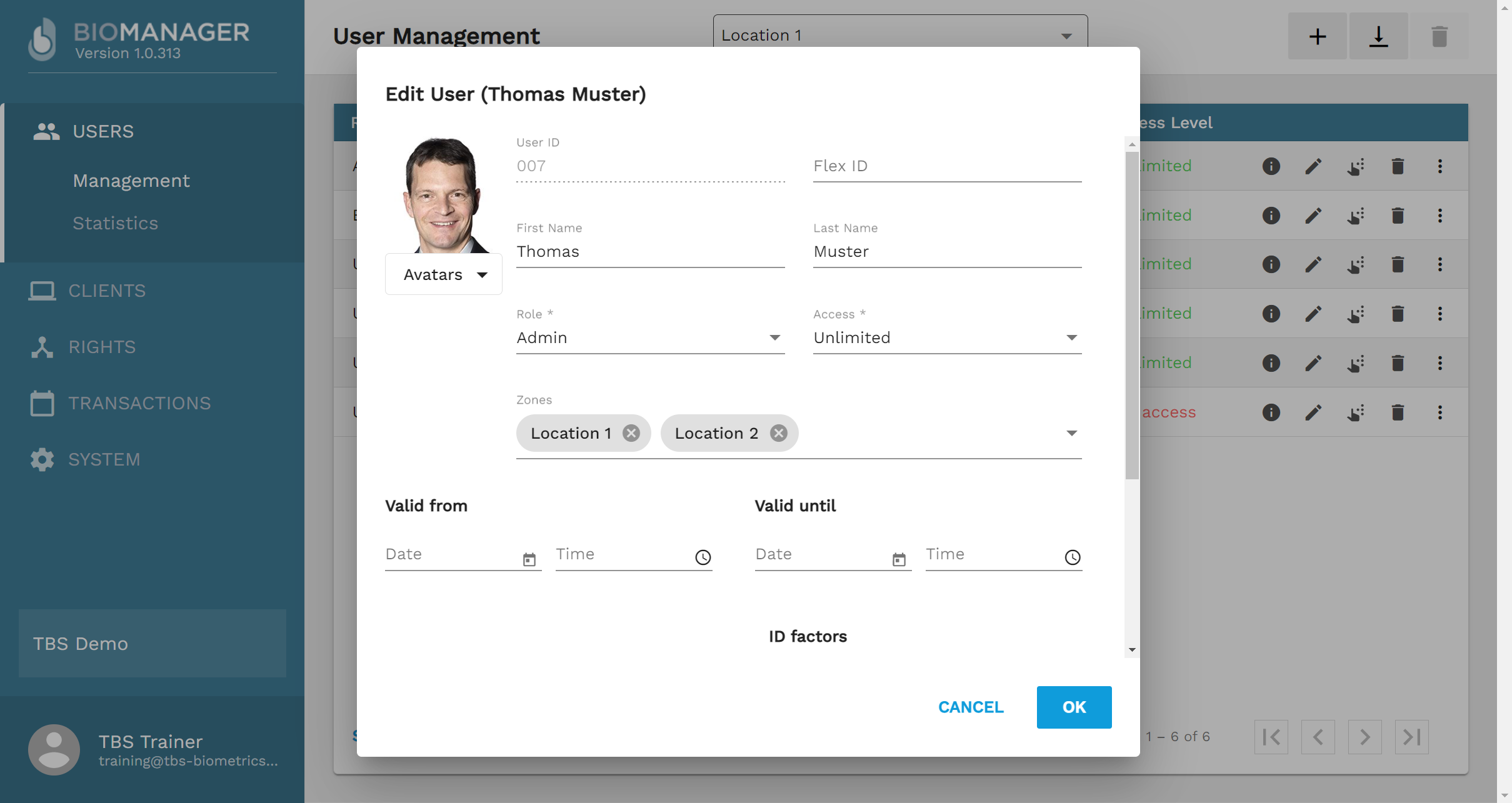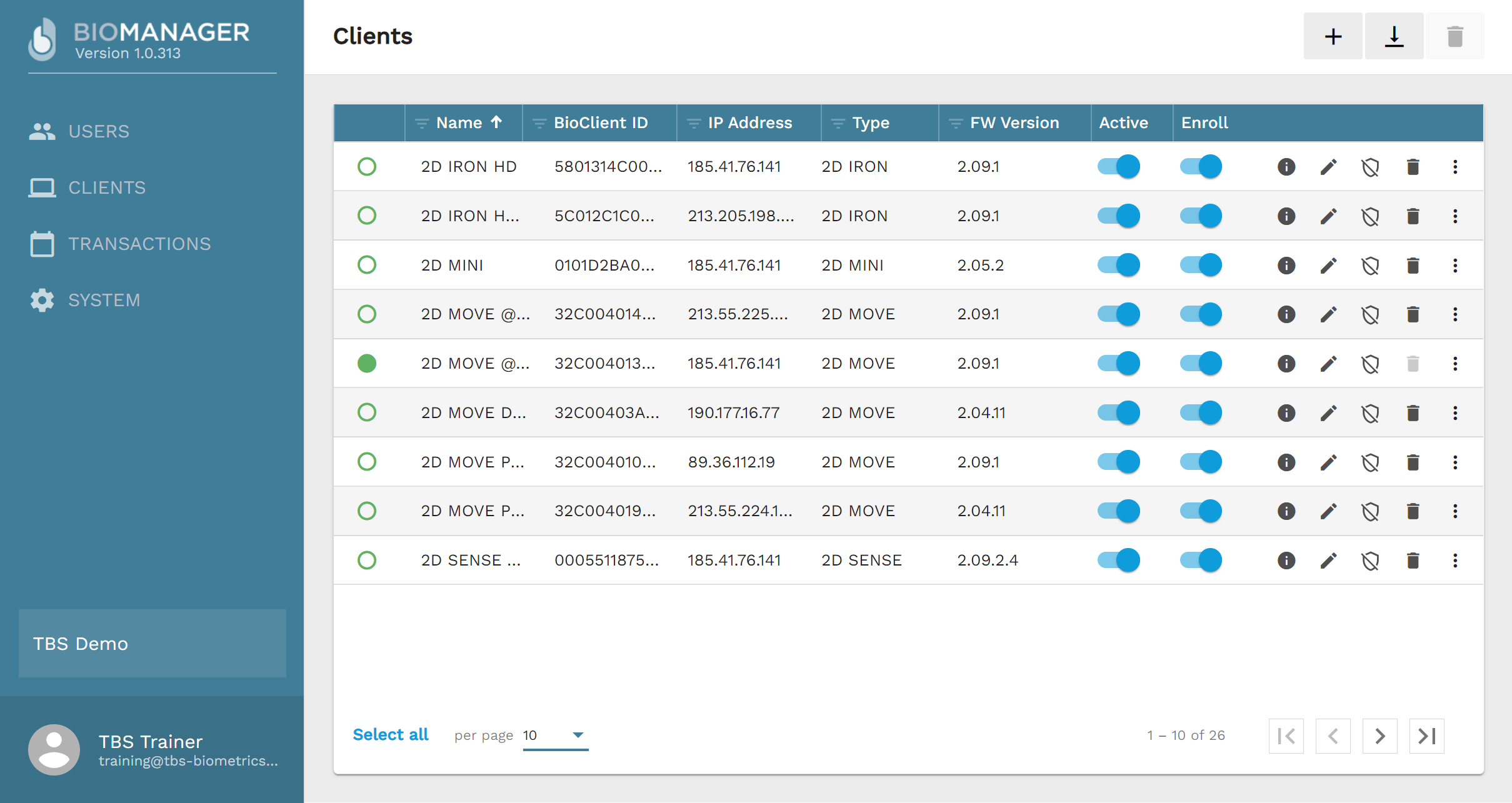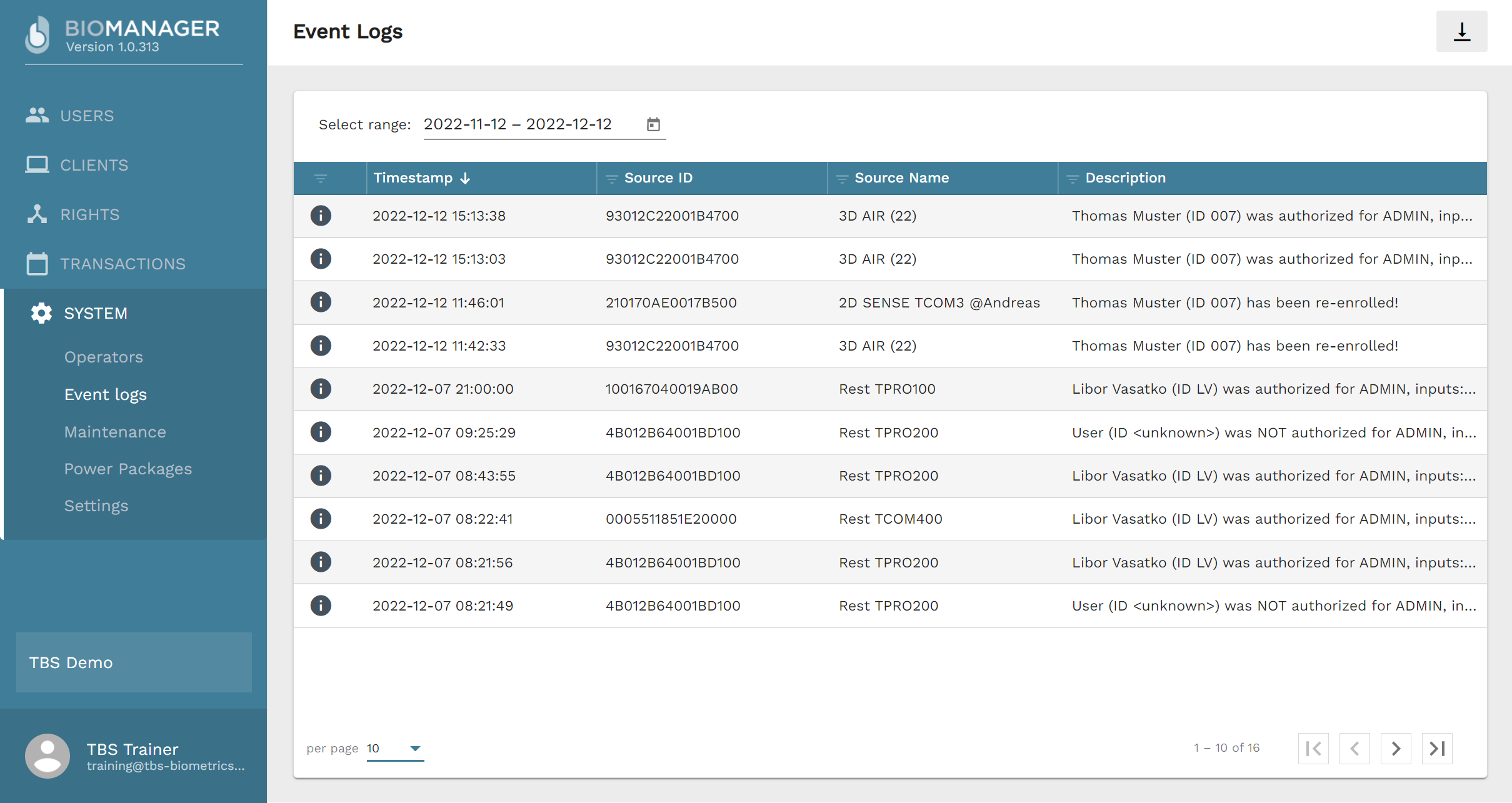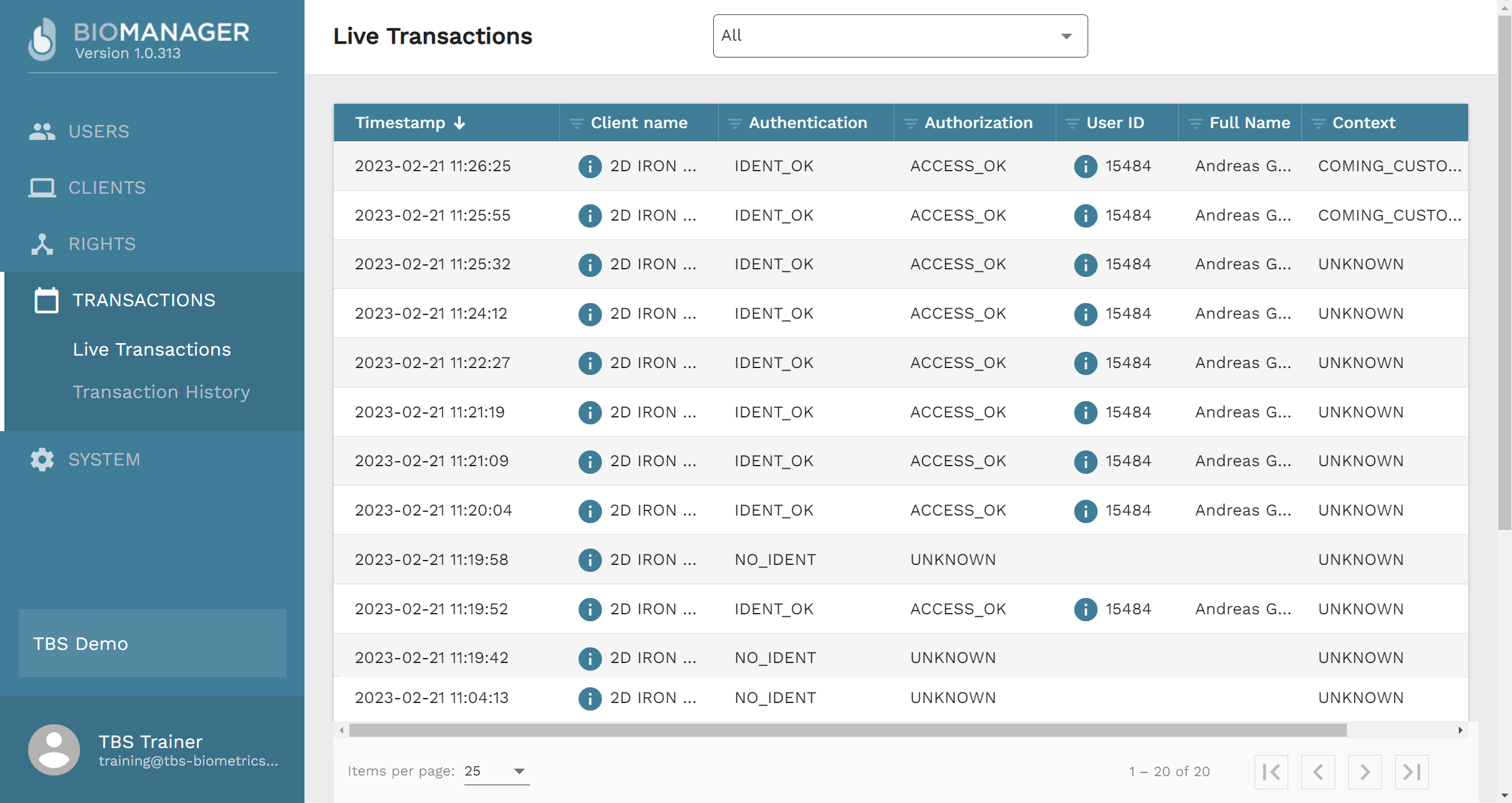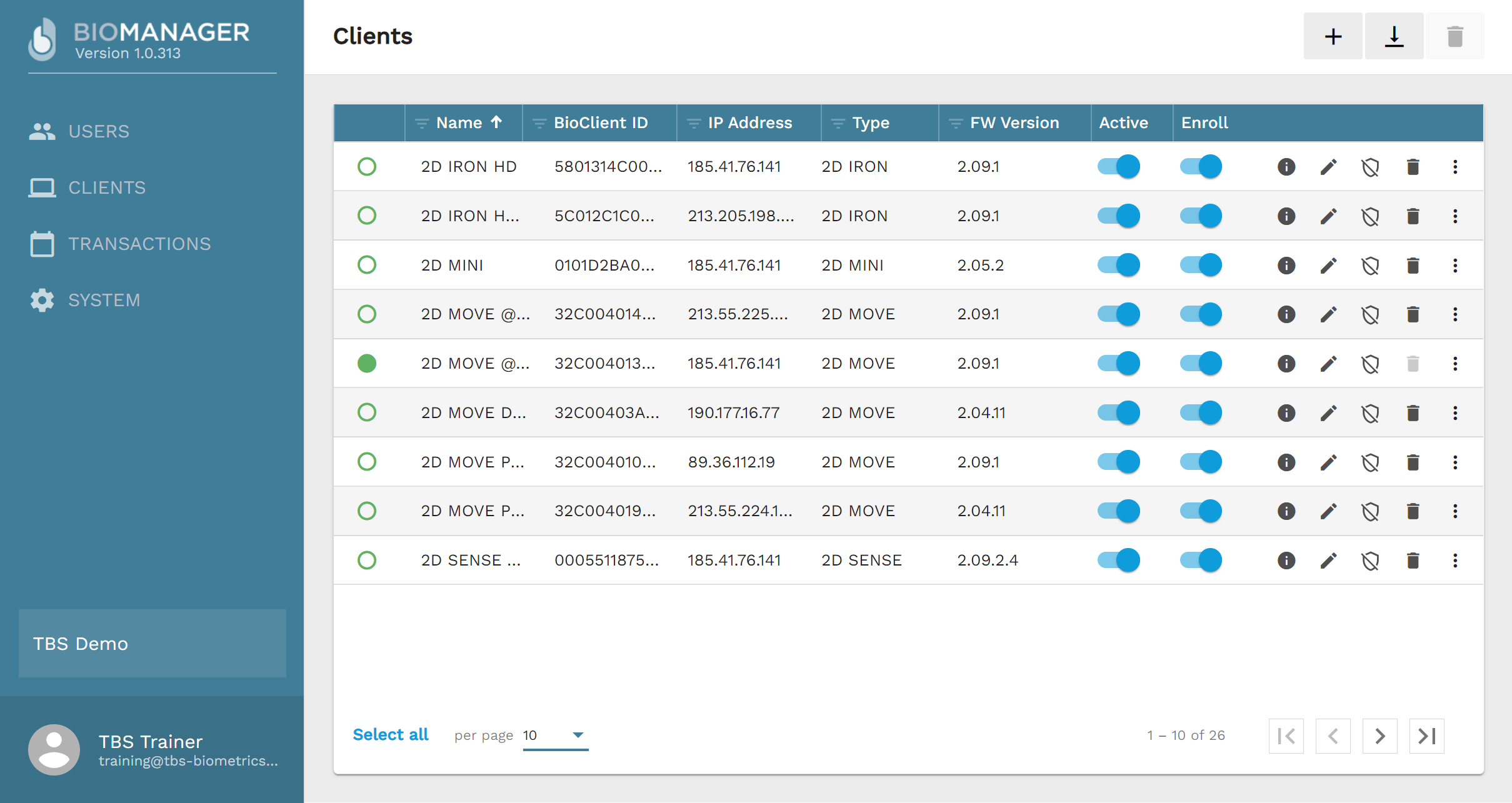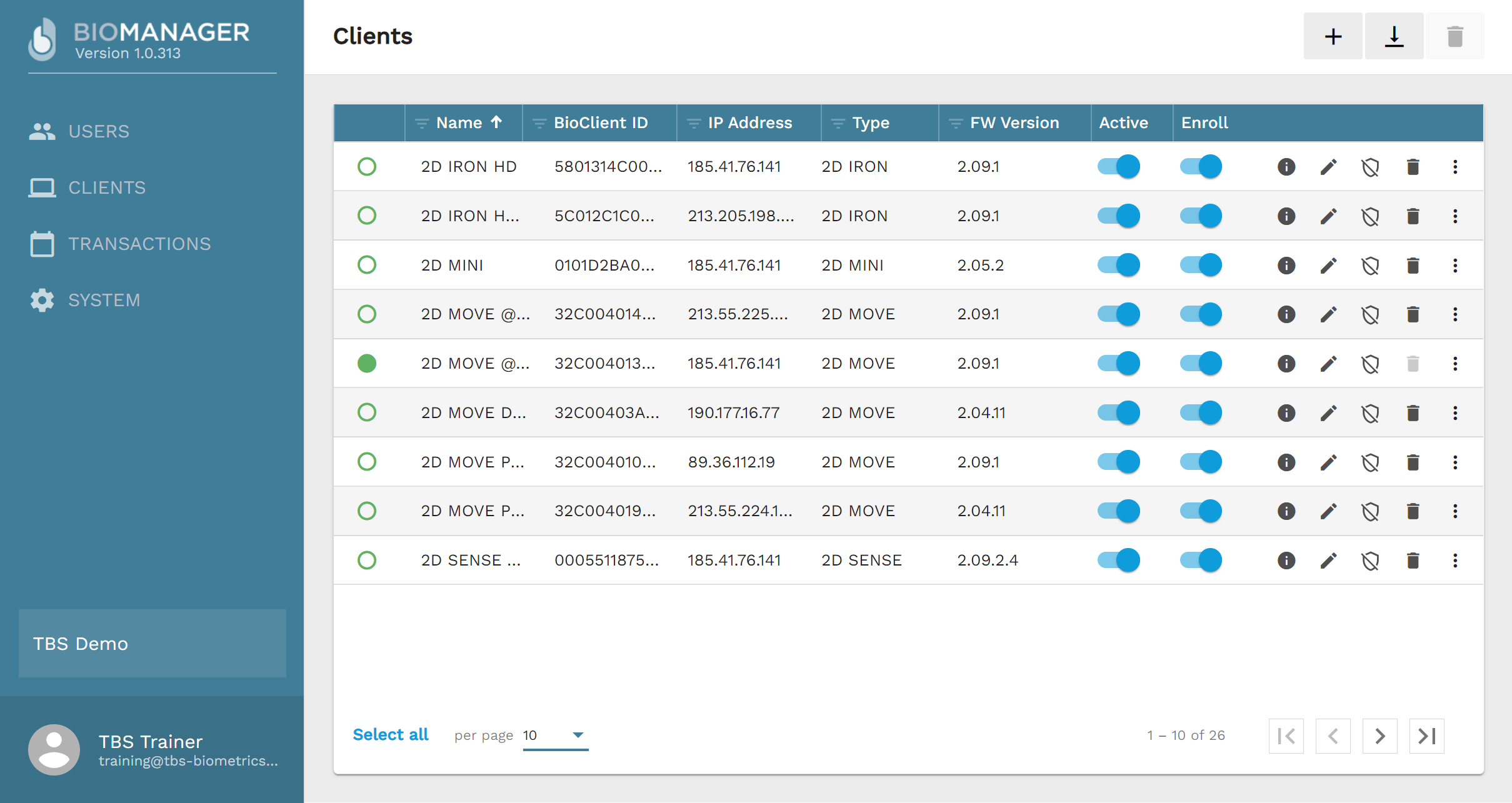 POWER PACKAGES
To enhance the capabilities of your BIOMANAGER ENTERPRISE solution, there are numerous power packages available that can be incorporated to provide additional features:
The Enrollment package adds direct enrollment options to BIOMANAGER ENTERPRISE. Both central enrollment (via connected USB sensor) and remote enrollment (on any TBS device in the network) are supported. The Event log feature is also included, to make enrollment attempts accountable.
The Multi-Factor package brings additional authentication factors to TBS devices, like QR Code or Mobile access. Availability depends on device model.
The High-Security package includes support for custom SSL certificates and allows an installation specific encryption of biometric templates. Moreover, liveness detection features are enabled on qualified devices.
The Integration package provides access to readymade software adapters to leading third party software systems. It also enables our legacy SOAP API for partners that do not support REST API yet.
The Access Control package introduces extended access control features like multi tenancy, rights management and anti-passback functionality. Transaction history and export as well as detailed event log are also included.
The Access Control Profiles package brings readyto-go functionality for predefined access control scenarios, like alarm system access or extended door control. Transaction history and export as well as detailed event log are also included.
The Access Point Management package adds special functionality to handle multiple selection scenarios like key cabinets to TBS devices. Transaction history and export as well as detailed event log are also included.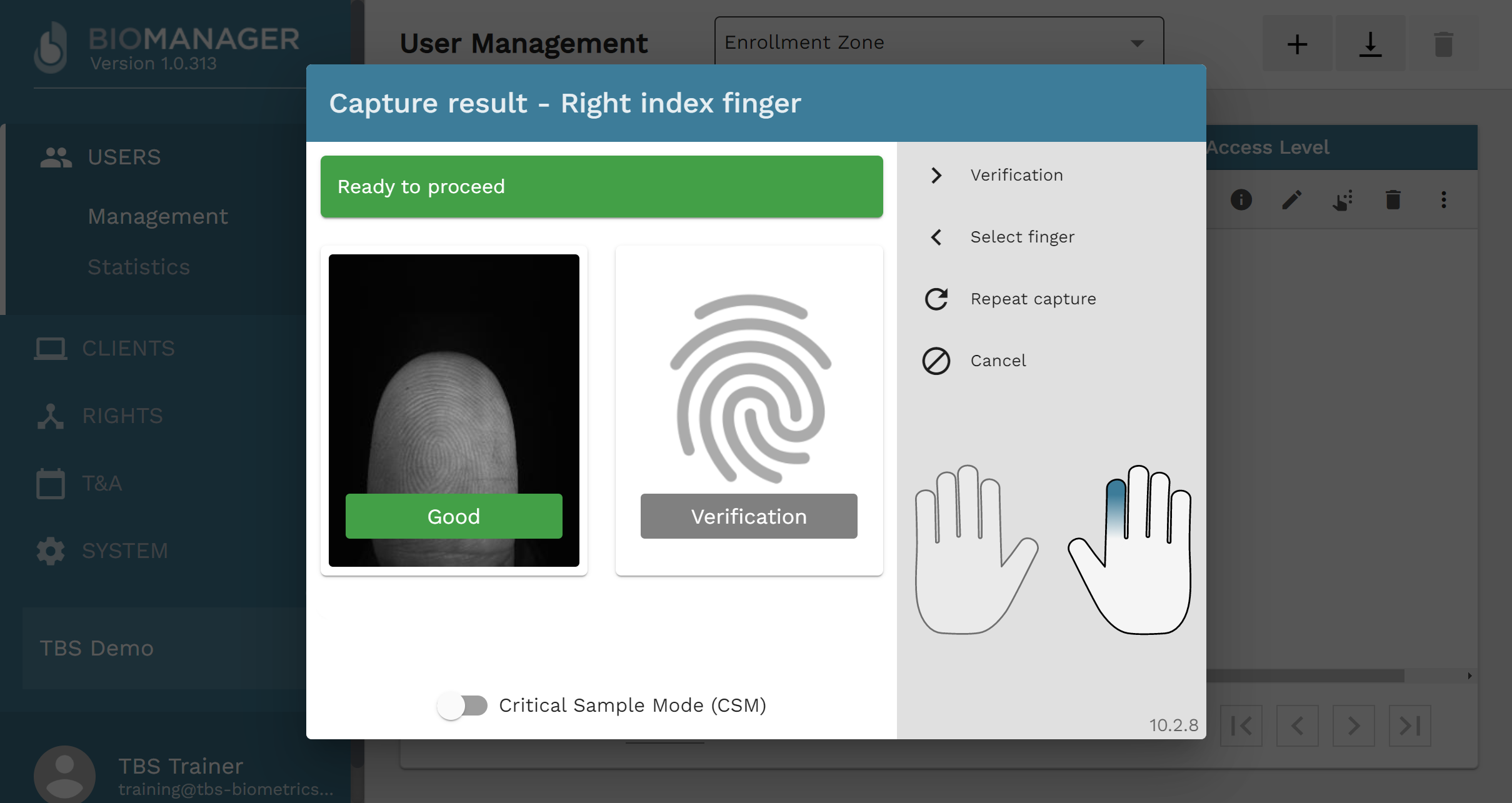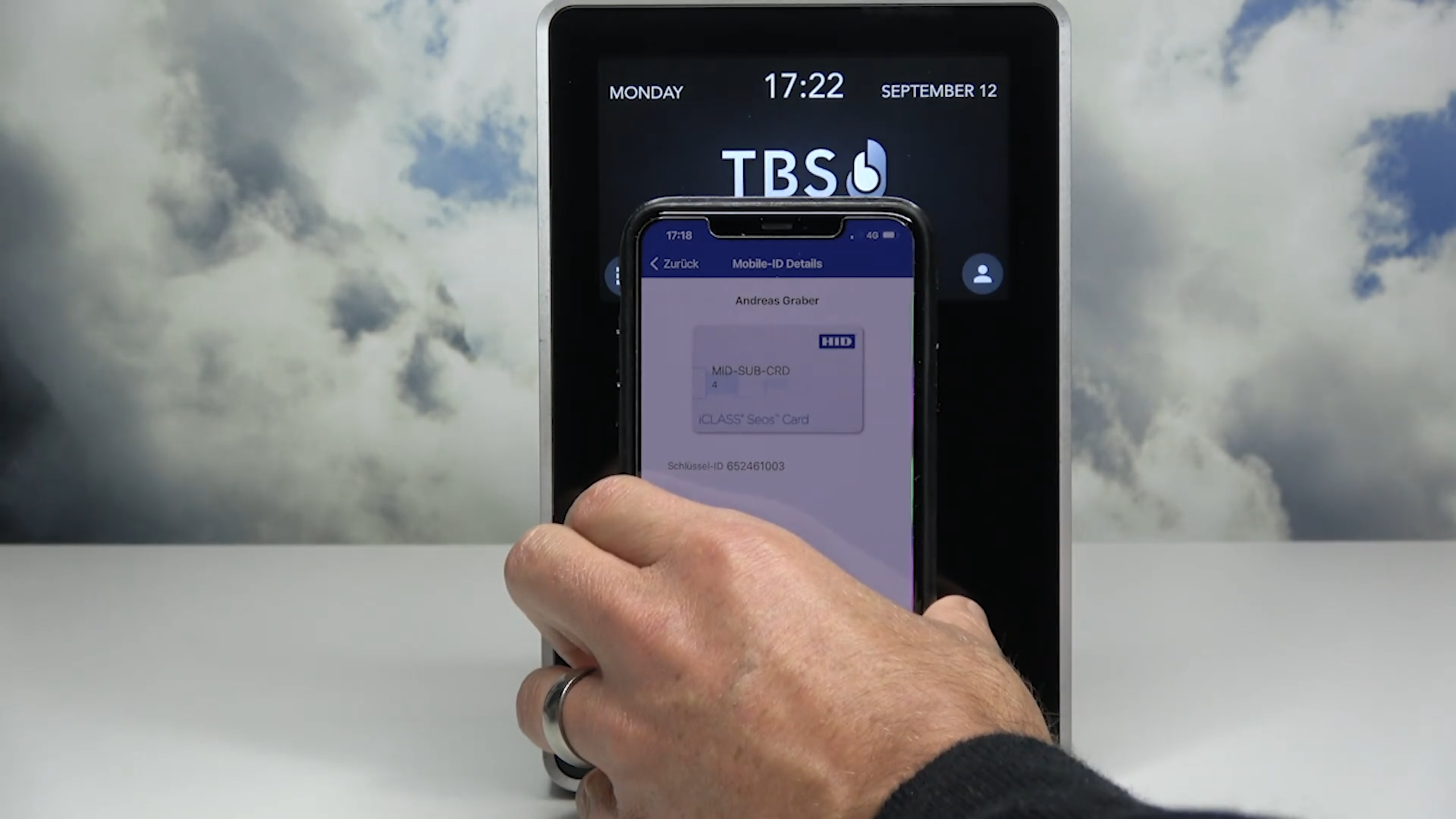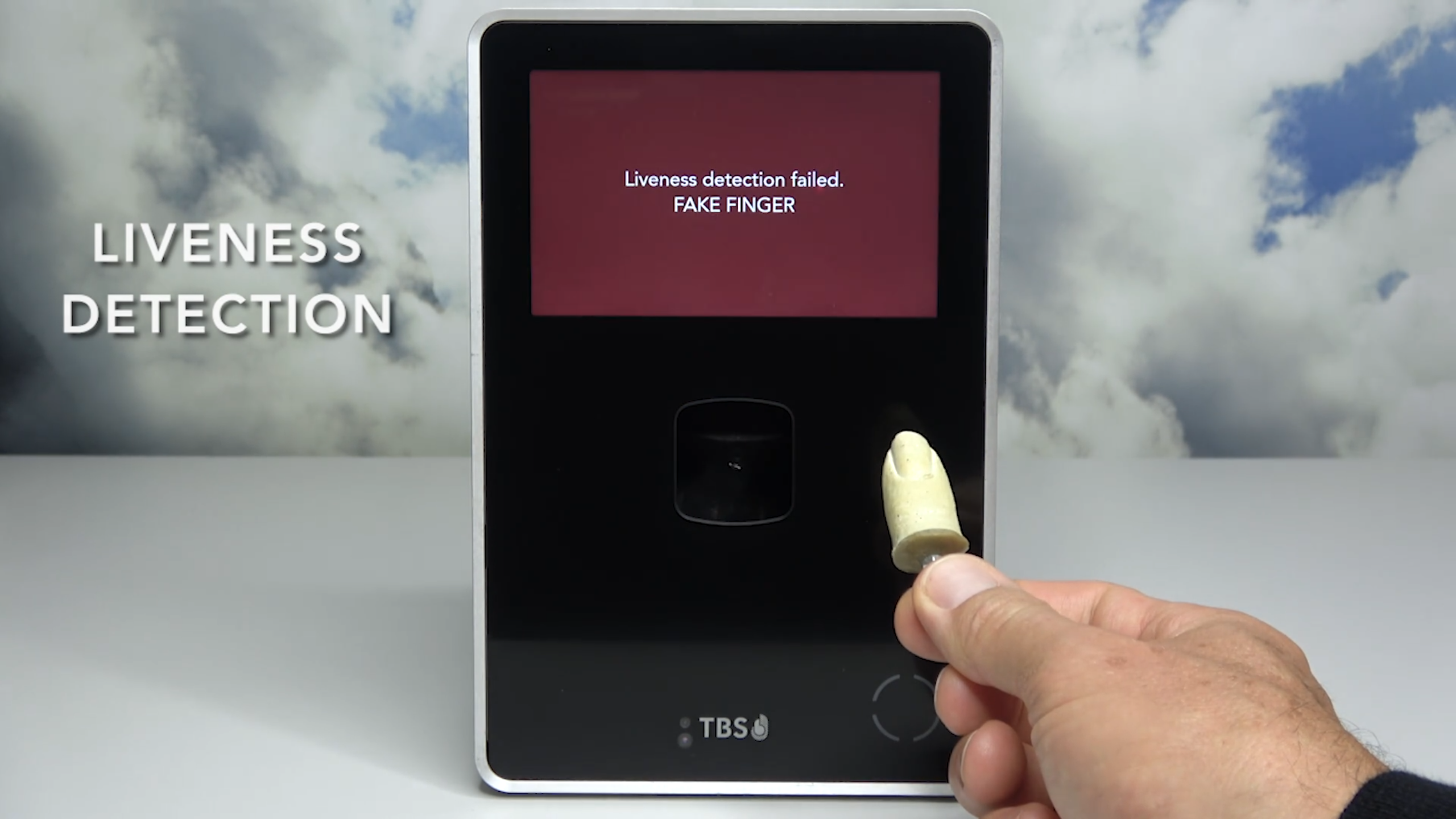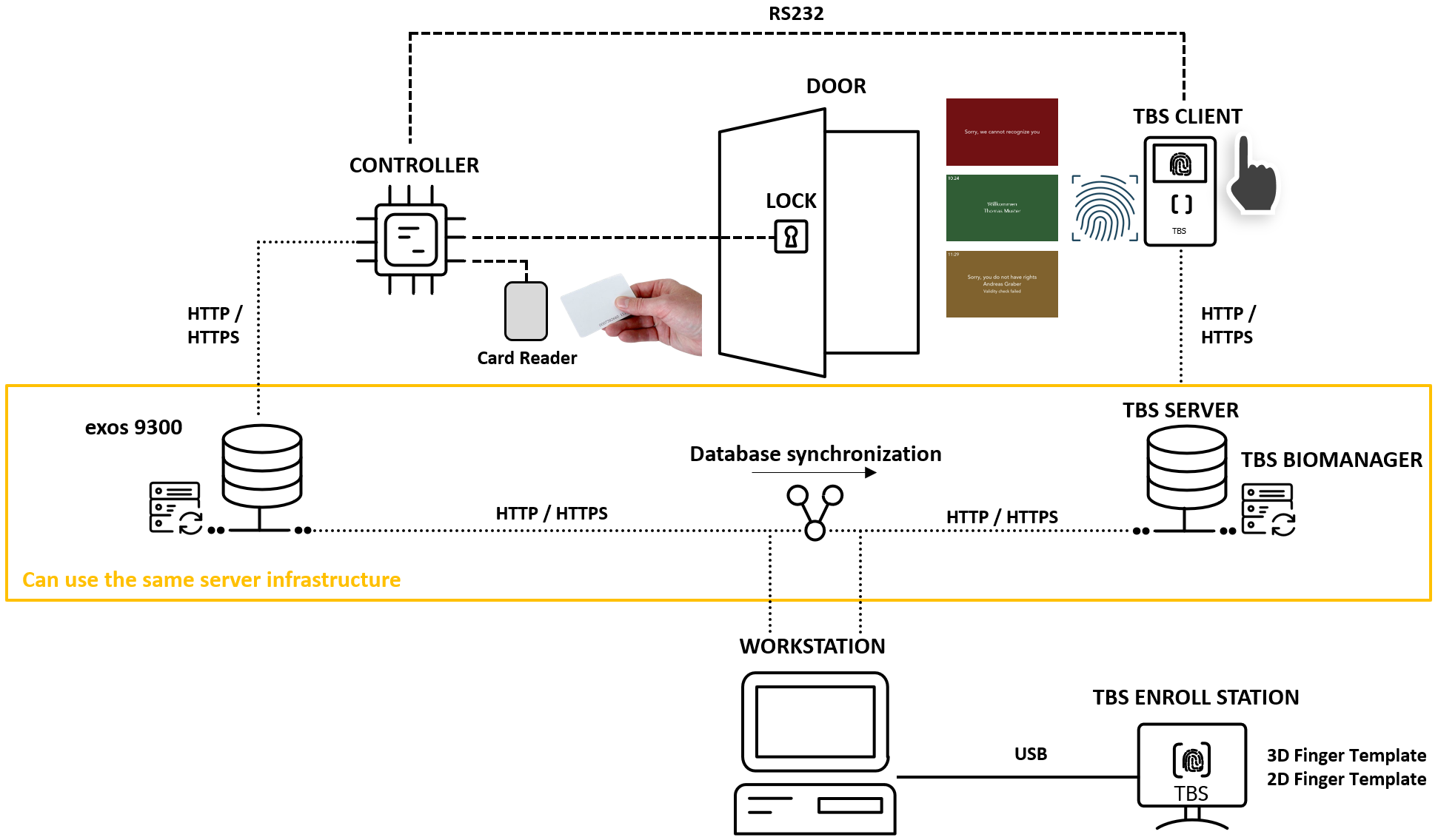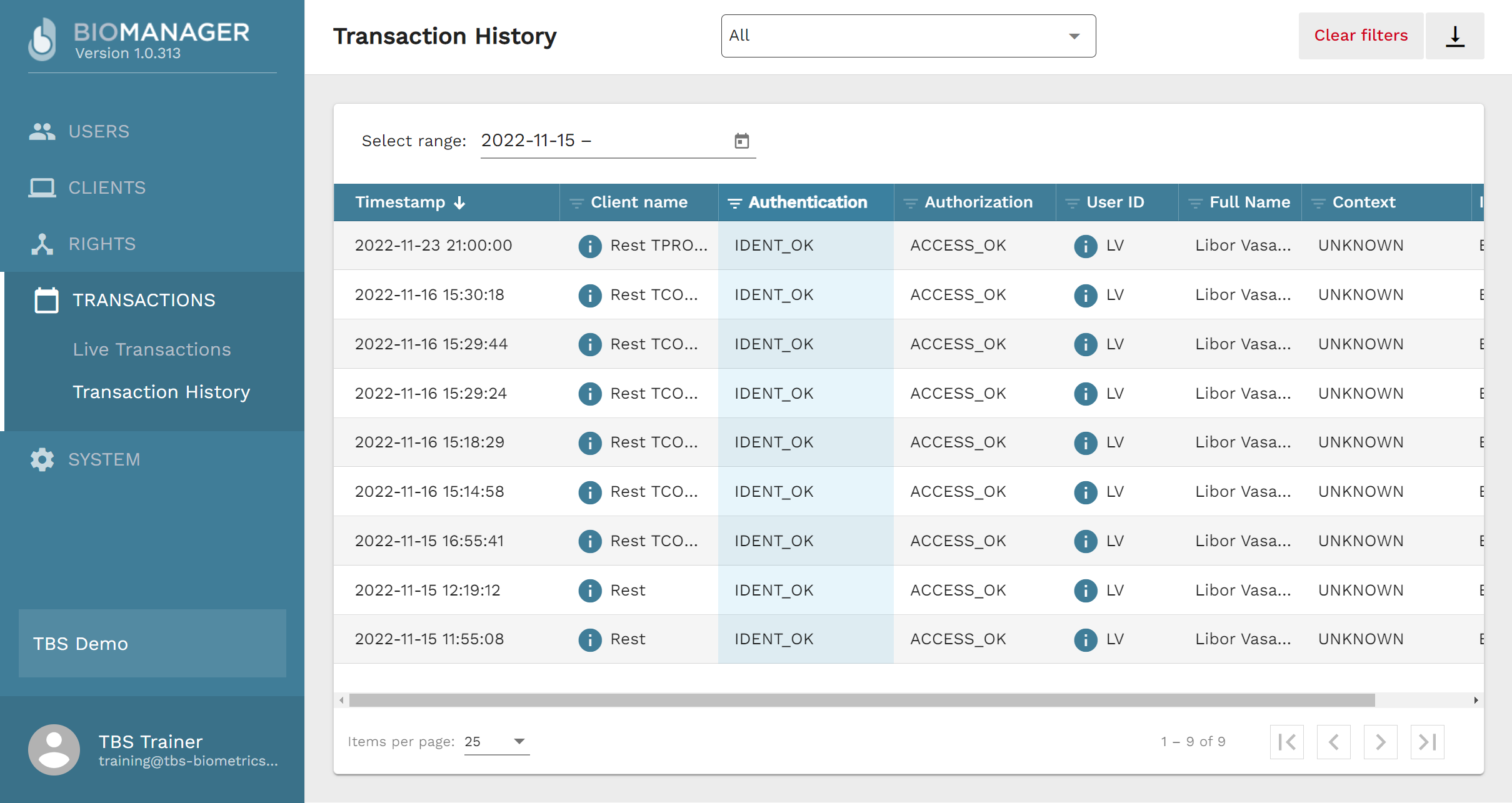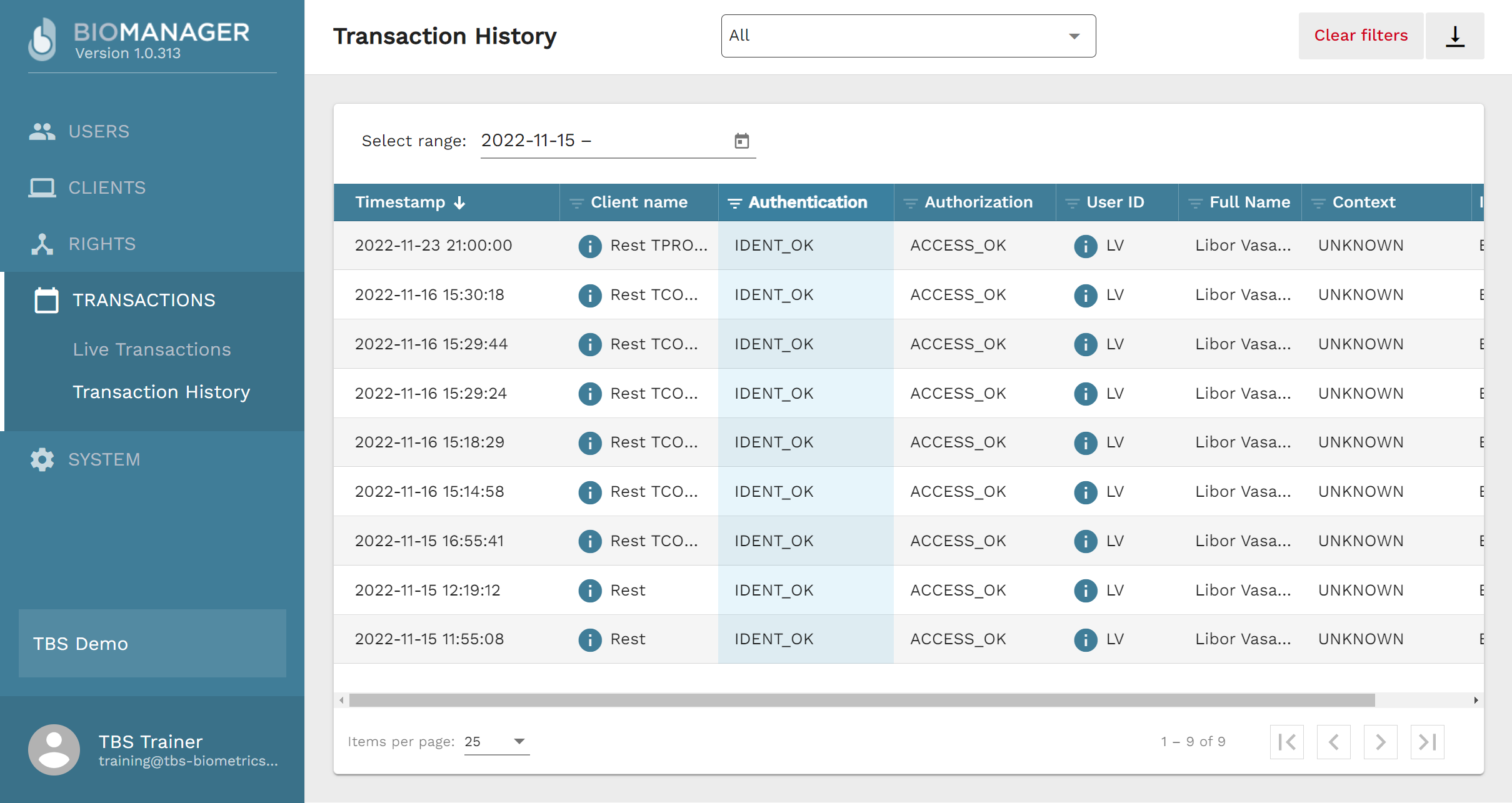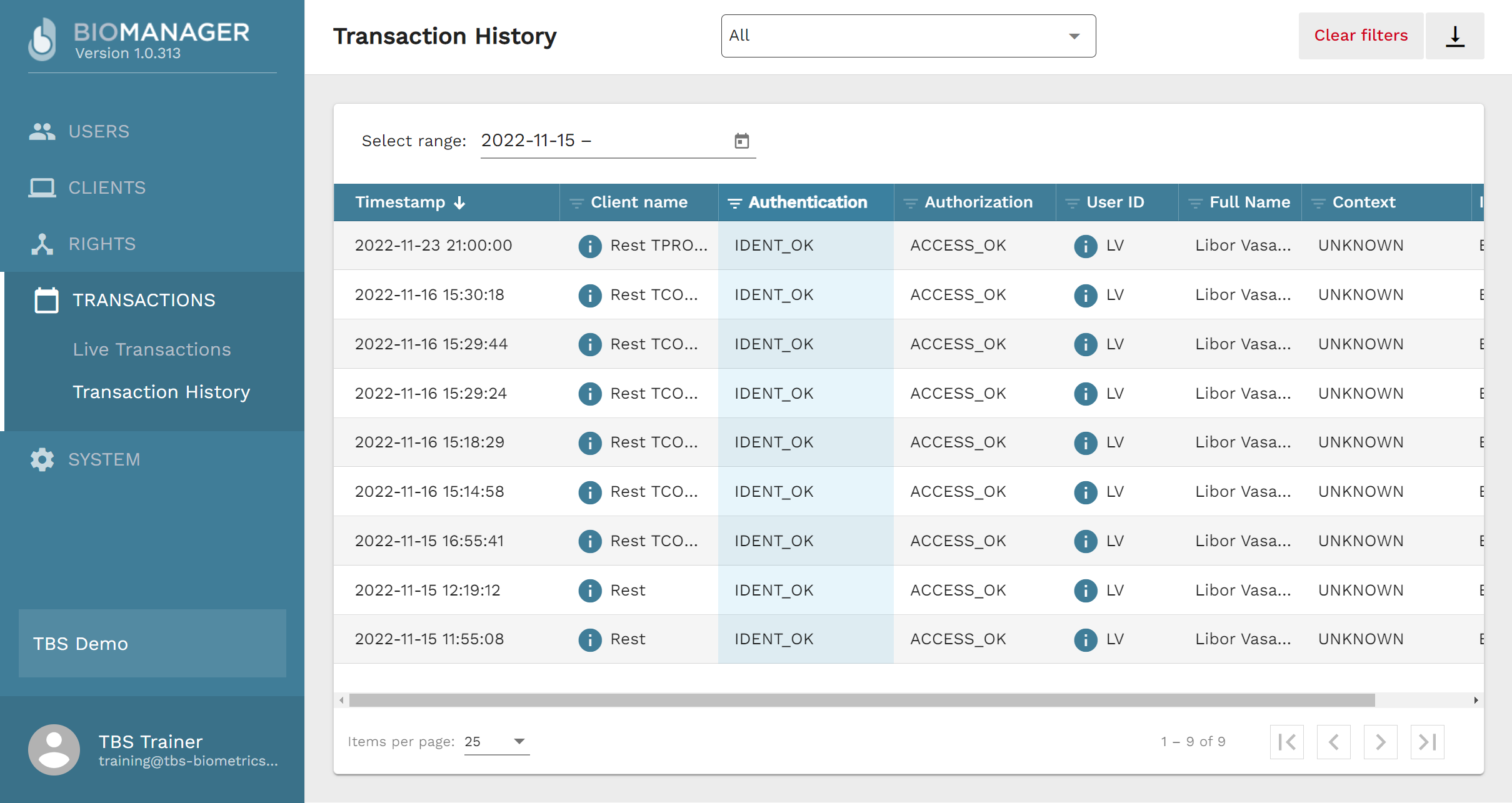 CONFIGURE YOUR PERSONAL BIOMETRIC PLAN WITH TBS SUBSCRIPTION
ON PREM – ONE TIME LICENSE
BASE PACKAGE
BASIC
STANDARD
PREMIUM
POWER PACKAGES
BASIC
STANDARD
PREMIUM
SUPPORT AND UPDATES
BASIC
STANDARD
PREMIUM
Qualified 3rd Level support Mon-Fri , Support on demand (15 min. invoice)
BASE PACKAGE
BASIC
STANDARD
PREMIUM
POWER PACKAGES
BASIC
STANDARD
PREMIUM
SUPPORT AND UPDATES
BASIC
STANDARD
PREMIUM
Qualified 3rd Level support Mon-Fri , Support on demand (15 min. invoice)
BASE PACKAGE
BASIC
STANDARD
PREMIUM
POWER PACKAGES
BASIC
STANDARD
PREMIUM
SUPPORT AND UPDATES
BASIC
STANDARD
PREMIUM
Qualified 3rd Level support Mon-Fri , Support on demand (15 min. invoice)
Software download is provided